Employees well-being
"To make beautiful things, in beautiful surroundings."
Jean-Louis Dumas
Ambition
For six generations, the humanist business model has put people at the centre of the House's endeavours. Hermès has very high standards regarding the quality of working conditions, which are essential to enable employees to grow, flourish and derive meaning from their work. In addition to health and safety challenges, this involves implementing managerial best practices and working environments conducive to the well-being of all (in sites, stores and offices).
 
Governance
The Executive Committee oversees the initiatives taken to support employees, relying on the Group's human resources department, all the subsidiaries' Human Resources Directors worldwide, and the Internal Communication Department. In France, social dialogue is organised around a Group Committee and a Social Dialogue monitoring Committee. Each entity oversees the operational initiatives at its own level, assisted by Health, Safety and Working Conditions Committees (CSSCT) and Social and Economic Committees (CSE). A Group Ethics Committee has been set up to offer advice and recommendations regarding the Group's culture and ethical practice, and to receive and process any potential alerts (via H-Alert).
 
Commitments
Employees' well-being is a prime consideration within the operational strategy. In an effort to create long-term, meaningful employment, the Group is committed to many issues:
Healthy, safety and well-being at work
through a policy to prevent workplace accidents, occupational illnesses and musculoskeletal disorders, and an active policy to maintain employment and prevent people being unable to work.
Working time
managed by each entity in compliance with the applicable regulations and according to the specific nature of its activity, it includes the desire to respect work-life balance by implementing variable working times for French entities.
Social dialogue
it is Hermès' policy to work constantly to implement and guarantee high-quality social dialogue and employee freedom of expression.
Remuneration
this combines various individual and collective remuneration tools. In addition to fixed salaries, individual and collective bonuses and paid leave, the group has implemented profit-sharing and incentive schemes depending on the country. In the long term, employee shareholding plans have been awarded to all of the Group's employees worldwide.
Employee benefits
in addition to their remuneration, Hermès provides health insurance and welfare benefits, which include voluntary health insurance top-up coverage that supplements countries' insurance schemes whenever possible in accordance with local market practices; a comprehensive maternity policy, which includes maintaining full basic pay for at least 16 weeks' maternity leave and covering 100% of maternity-related healthcare costs; and a supplementary defined-contribution pension scheme for all eligible employees in France.
 
Management system
In compliance with the regulation in force, the Group's HR department implements management procedures and coordinates the HR department actions of the subsidiaries and entities. A new intranet, Hermèsphère, has been established to strengthen internal communication.
In terms of manufacturing operations, the Environment, Health and Safety network (the "EHS network"), with around 20 members, meets several times a year to set targets, share results and learn about good practices in each Métiers. The measures are overseen by a specialised external partner, selected in 2002, which conducts EHS compliance audits at various Group's sites over a period of three years. An information system is used to coordinate follow-ups, check compliance and assess the safety culture of each site, thereby providing full coverage of the house's entire manufacturing operations.
Production and distribution sites

80%

of objects are produced in France

61%

of objects are produced in-house or in exclusive workshops

62%

of the workforce is employed in France
Workforce growth over the past 10 years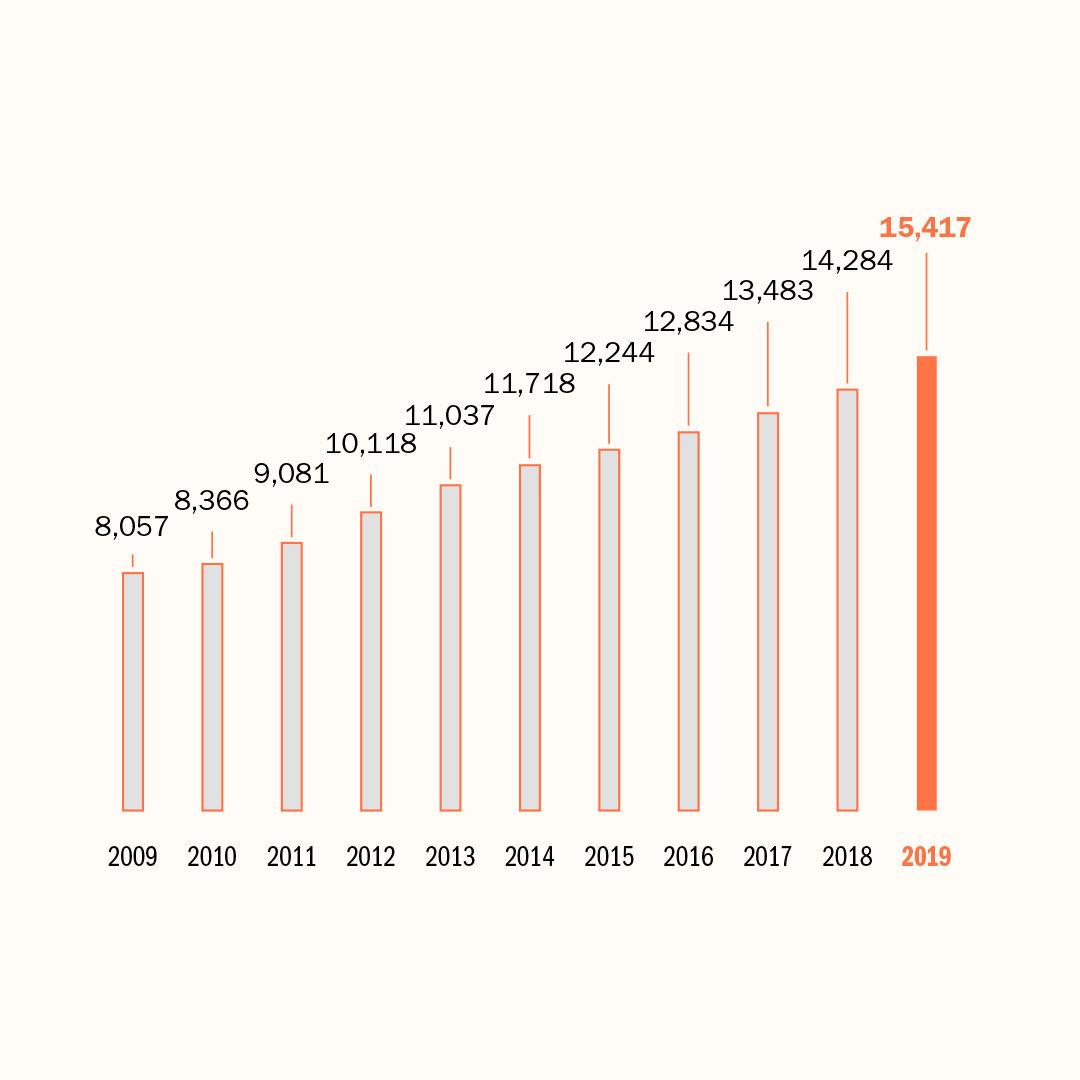 Workforce growth over the past 10 years
The Group's excellent economic performance is accompanied by the creation of jobs that expand the Hermès family. The Group has increased its workforce by around 1,100 people. At the end of 2019, it employed 15,417 people, including 9,522 in France.
Seniority pyramid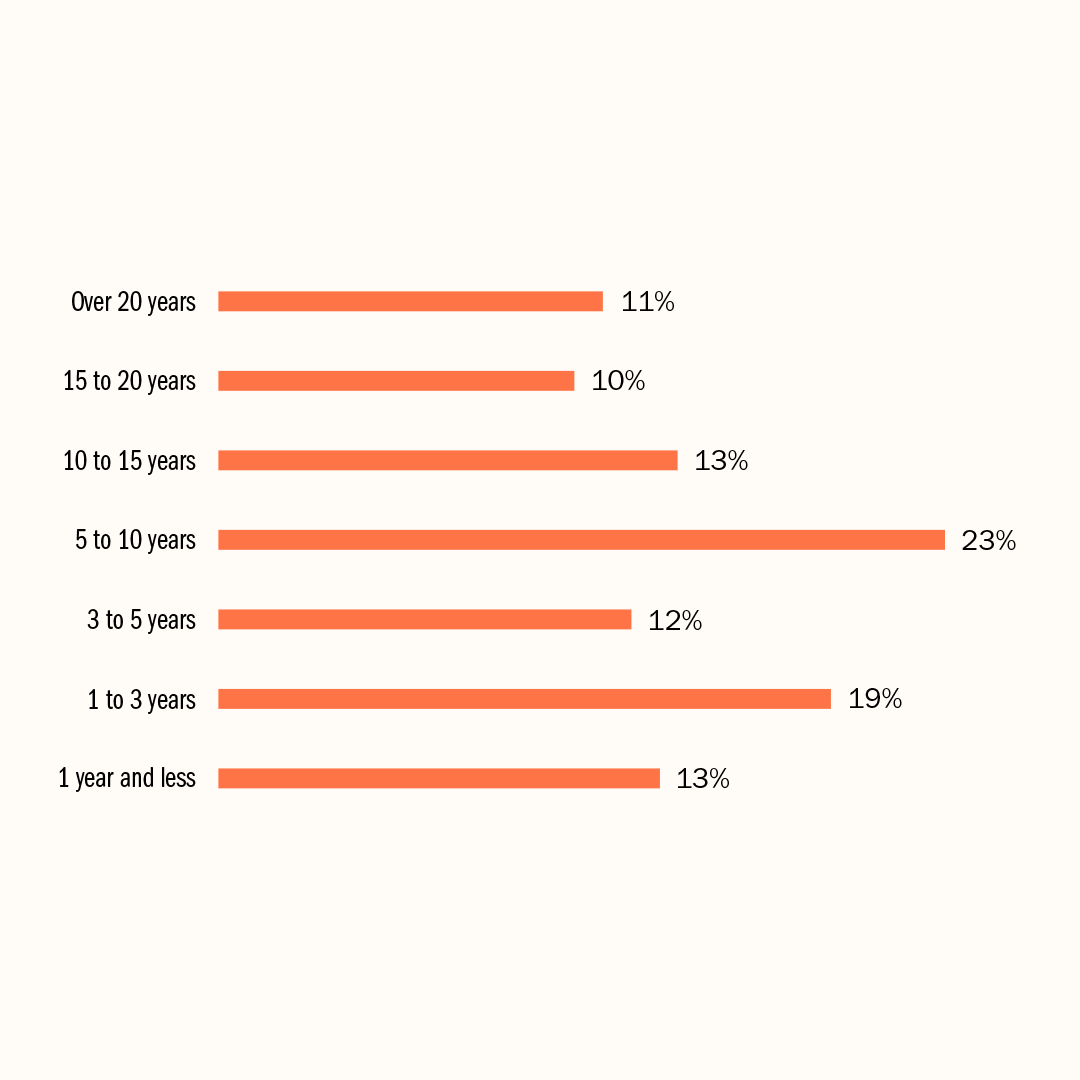 Seniority pyramid
The average seniority is nine years and 44% of the Group's total employees have been with the Group for less than five years, resulting from the fast growth in recent years. The Group encourages the development of skills and long careers. More than one third of the workforce have been within the Group for more than 10 years.
3,133

jobs created worldwide in 2019

676

jobs created in France in 2019

44%

of employees have been with the Group for less than 5 years
The importance of craftspeople at the house
46%

of the total workforce is dedicated to production

5,200

craftspeople in the house (34 % of the 15,417 employees)
Employee satisfaction rates
| | |
| --- | --- |
| Glassdoor employer ranking | 2nd best employer |
| Proportion of full-time employees within the group | 95 % |
| Turnover (total number of dismissals/average Group headcount) | 1.3 % |
| Group absenteeism rate | 2.9 % |
Health and Safety
| | | | |
| --- | --- | --- | --- |
|   | Worldwide | France | International |
| Severity rate of workplace accidents with stoppage | 0.45 % | 0.71 %* | 0.11 % |
| Frequency rate of workplace accidents with stoppage | 10 % | 14.28 %* | 4.4 % |
Change over 5 years in terms of accidents' frequency and severity rates

5th

free share awarding plan since 2007

87

million euros of profit-sharing and incentives in France (9,522 employees) in 2019
64%

of the Group's workforce have been asked to complete the employee wellbeing questionnaire since 2018
Initiatives within the house
In 2018, a new Paris office location provided an opportunity to introduce a proactive approach to well-being. This building houses 166 employees, and the aim was to design the space to make it a pleasure to come to work and to ensure that the building serves the organisation. Co-development workshops on well-being were held to:
identify what the employees needed to feel good;
define how the space layout could help them in their daily work.
In the HQE renovation-certified building, the refurbishment took into account:
local sourcing of furniture and fittings made in France;
the use of recyclable materials, including wood, from fair trade sourcing;
eco-actions, with responsible energy management (LED lighting, presence detectors), waste sorting and collection, a paperless approach facilitated by shared printers, and recycling (with some office accessories made from production's leather offcuts).
In order to make the collaborative approach comprehensive, a feedback questionnaire was distributed to users five months after installation. Overall, 90% of employees expressed general satisfaction with the new workspaces, 84% were proud of their new spaces, and 93% considered that the objectives had been achieved.
Learn more about
Discover how employee's well-being takes part in our strategy "All artisans of our sustainable development". 
Dowload our documents: