Transmission of know-how
"As a humanist group, at Hermès we share a deep-seated conviction that human creation, enhanced by know-how, is a source of pleasure for both the maker and the receiver. Our desire to always remember that our objects are made by the hands of men and women makes it natural that we would consider training to be the foremost gesture we can make to the group's employees."
Olivier Fournier, Executive Vice President Corporate Development and Social affairs 
Ambition
Sustainable development at Hermès rests on the group's employees acquiring, developing and passing on know-how (regardless of their profession, be they craftspeople, sales associates or support staff, etc.), one of the Hermès's key assets. More broadly, Hermès contributes to preserving and perennialising artisanal know-how and skills, which lend themselves to responsible and sustainable economic development.
Organisation 
The executive Committee ensures that training and skills development are given the necessary importance, notably by reviewing strategic plans. The executive vice-presidents of the subsidiaries and their human resources directors supervise annual performance reviews and set objectives for the coming year, particularly in terms of training.
In France, employees' skills, professional development and training are formalised in an annual review and objectives are set. A meeting to discuss medium-term prospects, which by law should take place every two years, takes place between Hermès employees and managers every year.
The human resources department oversees the implementation of these meetings, and all of the information collected is consolidated in the internal management system "My Career", which is used by employees throughout their time at Hermès.
Objectives
Hermès contributes to the preservation and sustainability of multiple types of craftsmanship savoir‑faire, particularly in the manufacturing sector, which is conducive to a more responsible and sustainable local economic development. Hermès' main objectives are:
By 2025, to ensure that more than 80% of employees receive training during the year and that the average training time is at least three days per year;
To train more than 600 people in 2023, then more than 650 in 2024 in the CAP vocational qualification in leather work.
Integrating new employees and sharing with them a unique corporate culture
Sustainable development at Hermès rests on the ability of its teams to commit to the group's values and long-term plans. To enable new employees to play a part in its corporate plan, and in the best possible conditions, Hermès takes great care and devotes time and attention to their integration.
100%

of new employees have received training about the group's culture since 2018, in particular through the "Mosaïque" and "H immersion" induction programmes dedicated to the distribution subsidiaries
An ambitious and multilocal development and training offer
Hermès has rescaled the group's training and development offer to provide better support for its subsidiaries and complement their local offers. The group's training programme has a new common identity, Hermès Campus, built around four areas: corporate culture, management, expertise and personal development. In the unique context of the Covid-19 health crisis, training courses took place face-to-face for part of the year, before being replaced by remote activities.
23

hours of training per employee in average

341,700

hours of training provided

76%

of employees received at least one training course worldwide in 2022
11.7

million euros dedicated to training

1.04%

share of the payroll dedicated to training
Preserving historical know-how
The group's policy is to consolidate and develop individual expertise, increase versatility, ensure the sharing of know-how within teams, strengthen the transmission of know-how from generation to generation and retain talent. Success in these areas is reflected in both the quality of the objects and the group's ability to manufacture objects while showing due regard for both craftspeople and the environment. Hermès is developing in-house training schools for its leather, textile and tanning métiers in order to ensure that this know-how is perennialised and successfully passed on.
8

Entreprise du patrimoine vivant (Living Heritage Company) labels awarded to Hermès companies

21

Meilleurs Ouvriers de France - Best craftspeople in France  (MOF)
13

partnerships with leather goods schools in France

45

presentations carried out in different educational establishments
Promoting careers in the arts and crafts to younger generations
It is essential that we give young people the opportunity to find out about and join manual professions. Often, little is known about this type of profession, yet they offer a promising future. Hermès is committed to raising awareness of these professions through local initiatives such as open days, establishing links with schools and through the Manufacto programme, run by the Fondation d'entreprise Hermès.
150

in‑house leather goods trainers
Strong workforce growth
Loyalty is an important value to ensure the stability and sustainability of the Hermès model. This is why the Maison involves its employees in its long-term projects and encourages long careers.
8.4

52%

of the group's total workforce has worked for the group for more than five years

20%

of employees have worked for the group for more than 15 years, in France
Concealed in a hong kong skyscraper, a quintessence of the house's savoir-faire
If you were to take the lift to the 22nd floor of a skyscraper stretching out from the heart of Hong Kong's Admiralty district, you'd expect to walk out into the offices of a large bank or the headquarters of a multinational. But you'd be wrong. What a surprise it is to discover traditional leather craftspeople and their tools nested incognito in the sky. Welcome to a Hermès repair shop. A concentration of the House's savoir-faire, hidden behind the scenes in major cities and available to customers around the world.
This is the domain of Christelle, Farid and Alexandre, leatherwork magicians trained in French Leather Goods and dispatched to Hong Kong. A bevy of bags with the Hermès label are waiting patiently for a new handle, a colour stitch or a seam stitch at their gifted hands. In this workshop overlooking a city that never sleeps, time stands still. These objects with their individual histories come to life, recover, take on new colours, until they are ready for a new lease of life on the arms of their owners.
Discover our collection "Footsteps across the world"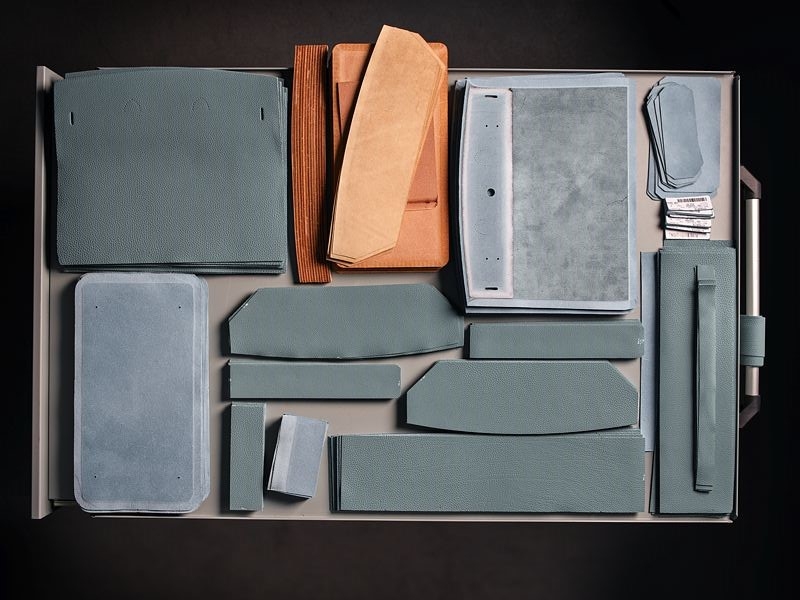 Discover how transmission of Hermès savoir-faire takes part in our strategy "All artisans of our sustainable development".
Download our documents: