Strategy
The Hermès strategy revolves around our values: spirit of conquest, creativity, craftsmanship, quality, authenticity and independence. It is based on three pillars: freedom of creation, the high standards of craftsmanship savoir-faire and the balance of the exclusive distribution network.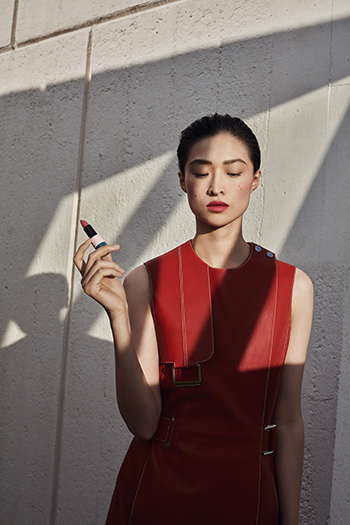 Creation at the core of Hermès's strategy
In this singular context, creation is at the heart of the model. It is the best response to the crisis, with unique objects that last and arouse desire beyond fashions and circumstances.
Hermès creates and manufactures quality objects designed to last, to be passed on from one generation to the next, to be repaired. This approach, as well as the search for excellence, particularly in materials, requires consideration of the challenges of sustainability and quality at every stage from design to sales.
Hermès' strategy is based on creative freedom, driven by its creators and Artistic Directors around the theme, which inspires the House's creative activities. With pride in its craftsmanship model, in 2020 Hermès paid tribute to the extraordinary tool that is the human hand, as well as to the ingenuity that drives every one of the House's craftpeople and women. For it is this combination that characterises the innovative spirit of Hermès, the Saddler's spirit.
High standards in design and manufacturing encourage the creation of objects that aim to surprise and amaze customers. This creativity, revolving around traditional savoir-faire, is coupled with innovative processes to revisit timeless models and create exceptional pieces, without departing from Hermès' trademark humour and imaginative flair. This is true of the House's 16 métiers as well as its other products and brands, in particular, the bootmaker John Lobb, Cristalleries Saint-Louis and the silversmith Puiforcat. The unbridled creativity flourishes in each métier, as reflected in the numerous scarf designs printed every year. It is then expressed through over 50,000 references, developed around a unique identity and a style blending exceptional quality, innovation, surprise, elegance and simplicity. In 2020, it was expressed through the successful launch of the Beauty métier, with a first collection of lipsticks.
Hermès' mission is to create unique and original objects to elegantly satisfy the needs and desires of its customers. Its goal is the pursuit of excellence, in each of its métiers and services, with craftsmanship at the heart of its model.
Uniqueness and performance of the craftmanship model
Hermès leverages its craftsmanship division, the second pillar of its strategy, with nearly 5,600 craftpeople and women in France. A House of over 180 years, backed by a rich history shaped by six generations of craftpeople, Hermès draws from its past through its savoir-faire, and is geared to the future through values that address the concerns of our modern societies. Hermès moves with the times, but always respecting tradition, transmission and innovation. The quest for excellence and quality, the search for precision and elegance are the values that guide its action. It is over this long period of time that the House has forged its savoir-faire and its values, and that the Hermès strategic vision has developed.
The craftsmanship model is one of the pillars of Maison Hermès, and ensuring that it lasts is key to its strategy. The House thus works alongside those who master, preserve and transmit craftsmanship savoir-faire through their knowledge of materials and their exceptional techniques. Each new leather goods workshop is an architectural project in its own right and creates around 250 jobs, promoting a pleasant working environment on a human scale.
Hermès continued its investments in production capacity in 2020, demonstrating the Group's confidence in the future and in the strength of its craftsmanship model, despite the uncertainties of the crisis.
The House attaches great importance to the continuous improvement of its craftpeople's skills and savoir-faire, as evidenced through its École du cuir. The craftsmanship model is at the heart of all the métiers of Maison Hermès, drawing on exceptional materials.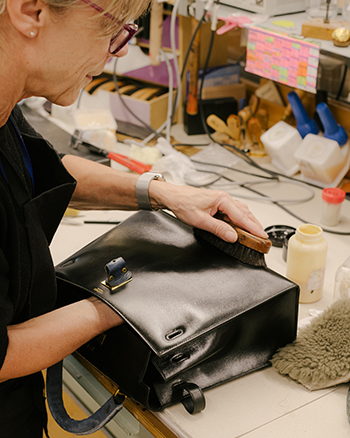 Strength of vertical integration
To guarantee the long term excellence of this craftsmanship model, the House takes particular care to secure its supplies of materials. Vertical integration, through partnerships and acquisitions, supports the development strategy, with regards to materials as well as techniques and savoir-faire. More than 60% of production is integrated and 80% is located in France.
This vertical integration is present throughout the production chain, from supply to the distribution network. Strongly anchored in France, based on the mastery and excellence of savoir-faire, a métier rather than a task, it has enabled the Group to be agile in the face of the crisis. As a result, the Group has been able to adjust its production volumes and reallocate its orders to some geographical areas in order to enable optimal inventory management. Its craftpeople have all mobilised to ensure the continuity of production and thus limit delivery disruptions.
The vertical integration and sustainable relationships with its partners ensure rigorous traceability of its supply chains, strict control of its supplies and reinforce the House's responsible development strategy with regard to materials, techniques and savoir-faire.
The dynamics of an exclusive distribution network
The omnichannel offer has been further developed this year in the exclusive and geographically balanced distribution network. This in-house distribution model, with Hermès' own network of stores and e-commerce sites, proved its effectiveness during the crisis. The House's tools have been adapted to a transformed customer relationship in order to respond to rapid changes in demand, and thus maintain a special relationship with customers. 2020 saw the widespread rollout of an omnichannel service relationship that enabled business continuity.
The exclusive distribution network, consisting primarily of branches run by the Group around the Hermès brand, is the third pillar of Hermès' strategy. Each of the 306 stores across the world offers a personalised selection of objects, to exceed the specific expectations of its customers and offer a distinct purchasing experience in each and every store. Each store enables its customers to explore and discover the most beautiful products, and extends the House's lustre worldwide.
The importance of e-commerce and the digital ecosystem has been confirmed in the face of the Covid-19 crisis. For the past five years, Hermès has made the strategic choice of ramping up online sales, with the successful rollout of its new proprietary platform worldwide, the attraction and retention of new customers, and the development of services and initiatives. This strategy supports the House's customers and accelerates the digitisation of uses. This digital flagship is designed like any Hermès store with its spirit of fantasy, authenticity and diversity, its windows, its products, its services and its stories gathered in a single virtual place.
Customers are placed at the core of the multi-channel integrated network, so as to best meet their expectations and offer them a unique experience. Hermès is appreciated by a loyal local clientele in each country where it operates, whose desire for the objects of the House enabled it to resist the interruptions of international travel. Across the world, Hermès stores are veritable "homes for Hermès objects", offering customers a unique experience, complementary to its website hermes.com. This offer is backed by innovative services aimed at welcoming and serving customers in the best possible manner at all times. The House also hosts special occasions that strengthen the bonds among Hermès' stakeholders, revolving around events in the world and dynamic and animated set designs. Each opening or reopening is an opportunity for the House to bring together customers that value its creativity and savoir-faire. Hermès's unique communication ensures the strength of the House's influence in France and around the world. It has adapted this year and invented new formats to maintain its presence in a difficult context while nurturing the link with customers, with agility and creativity, and through hybrid communication strategies.
Hermès, present in 45 countries, has an omnichannel network that is geographically balanced, with measured development and a constant search for prime locations.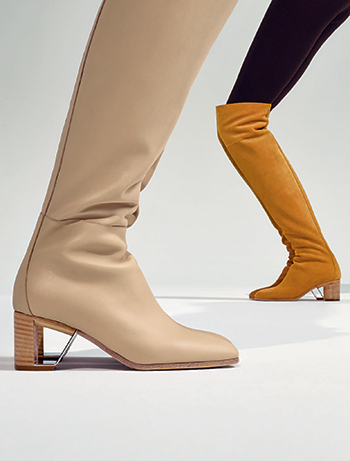 An entrepreneurial spirit and freedom of purchase
The entrepreneurial spirit has been at the heart of Hermès since its creation, never leaving its side and guiding all facets of the Company's development. It is illustrated by its abundant creativity, a capacity for constant innovation, new métiers, new production workshops and store openings. An entrepreneurial and innovative spirit underlies the creation of every object.
The strategy offers store managers freedom of purchase, to meet the specific needs of their customers. Two podiums are organised every year, presenting the fall-winter and the spring-summer collections. These bring together all store and country managers, managers of the different métiers as well as designers, to present all collections to the sales teams in all regions of the world. They are thus responsible for their own collections and make their store unique with a special mix of products. The presentation of the collections adapted to new formats this year, turning to digital presentations of the collections. This freedom means that in each country where Hermès is present, the Group's customers are presented with a diversified and unique mix of products resulting from this flurry of creativity, blending iconic products and the House's new references, created by its designers, artists, colourists and Artistic Directors, to best meet local expectations and dedicated to the elegance of its customers.
An independent house
Hermès continues to assert its independence, underpinned by a strong family-based shareholding structure, committed to retaining most of its production in France and perpetuating its savoir-faire to serve creativity and its long-term vision.
This independence, and the House's financial strict management, made it possible to continue operational investments in 2020, both in production capacities and in the network and cross-functional projects, in order to preserve the House's long-term performance and value creation.
Economic and financial independence, debt-free, has enabled the House to maintain the jobs and basic salaries of its 16,600 employees all over the world, without the use of public subsidies. Committed to the community, Hermès donated €20 million to AP-HP (the Parisian public hospital system), and its subsidiaries in all geographical areas took action locally, with the manufacture of hydroalcoholic gel by Hermès Parfum on the Vaudreuil site, as well as donations of masks and equipment for caregivers. Finally, the Executive Chairmen waived the increase in their compensation and the dividend awarded in 2020 was maintained at the same level as that paid in 2019.
Hermès' strong and sustained development is the result of prudent and rigorous management, and a resilient business model. These make it possible to preserve the uniqueness of the House, which has been part of the CAC 40 index since June 2018, in volatile contexts. This is achieved by maintaining the Group's profitability, its high cash level, its operating cash flows, targeted and qualitative investments, and the security of its assets. Financial independence ensures that its long-term strategy is safeguarded.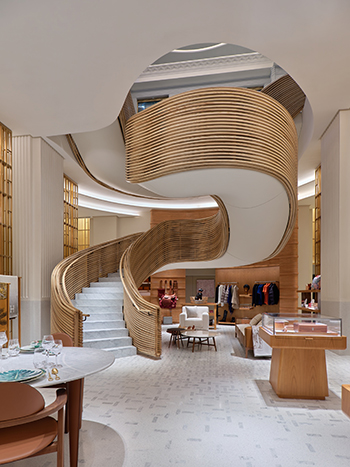 Virtuous and responsible growth underpined by humanist values
The majority of Hermès' production takes place in France, at 51 production sites grouped to create regional clusters. Hermès' strategy is to pursue this sustainable, responsible and social value-based growth model, with commitment to regions where there is a high level of manufacturing savoir-faire to create high-quality jobs.
Hermès is a humanist company, deeply respectful of all those who, with their commitment, savoir-faire and passion, are working to make the House a success. In response to the crisis, Hermès employees acted with solidarity and commitment to overcome obstacles and move forward.
Through its engagement with local authorities and communities where its production sites are located, Hermès contributes to revitalising regions, and provides working conditions that offer proximity and stable employment. Thanks to the Fondation d'entreprise Hermès, the Company is expanding its philanthropic actions in the public interest through artistic creation, education and transmission, solidarity and the preservation of biodiversity. In the face of the crisis, Hermès, as an economic player, has made a commitment to its ecosystem and its stakeholders, in particular by supporting partners and sectors, for example by maintaining and adapting orders, and sharing best practices in terms of health measures with its partners to help them return to business, as well as on climate and biodiversity issues.
As a company that respects nature and inspires it, Hermès ensures the preservation of its resources and its impact on natural environments and local ecosystems.
Hermès' craftsmanship model leaves a careful environmental footprint. In its direct sphere of influence, biodiversity in particular is systematically taken into account in the construction of its production sites. In its indirect sphere, the Group has a positive impact on its supply chain, by preserving autonomous ecosystems and participating in global initiatives. The House's high standards are confirmed and ensured in its subsidiaries, as well as in its objectives to combat global warming with the target of reducing scope 1 and 2 carbon emissions by 50% in absolute terms, as well as reducing the carbon intensity of scope 3 emissions, by the year 2030.
Hermès includes responsibility and sustainability in all its actions and creations.
As regards sustainable development, Hermès is determined to leave a positive global footprint, by paying the utmost attention to the performance of corporate social responsibility, in keeping with the House's DNA and its craftsmanship model. Hermès' objects are created, designed and made to last, using the most beautiful and robust natural materials and the best craftsmanship savoir-faire. A Hermès object acquires a beautiful patina over time and frequently improves with age. Craftsmanship of excellence means a piece that can be repaired. The House has therefore always had craftpeople dedicated to this activity, in France as well as abroad. Offering long-lasting, repairable objects that are made to be handed down is also a way to reduce the impacts of over-consumption and the wasting of resources, one of the principles to which Maison Hermès is particularly attached. There is a strong commitment to the creation of social value, both collectively through job creation in communities, and individually through free share awards, profit-sharing and an incentive scheme for employees. This is testimony to the Group's desire to share the fruits of its growth with those who make it happen on a daily basis. Hermès' commitment also implies strong signals from management.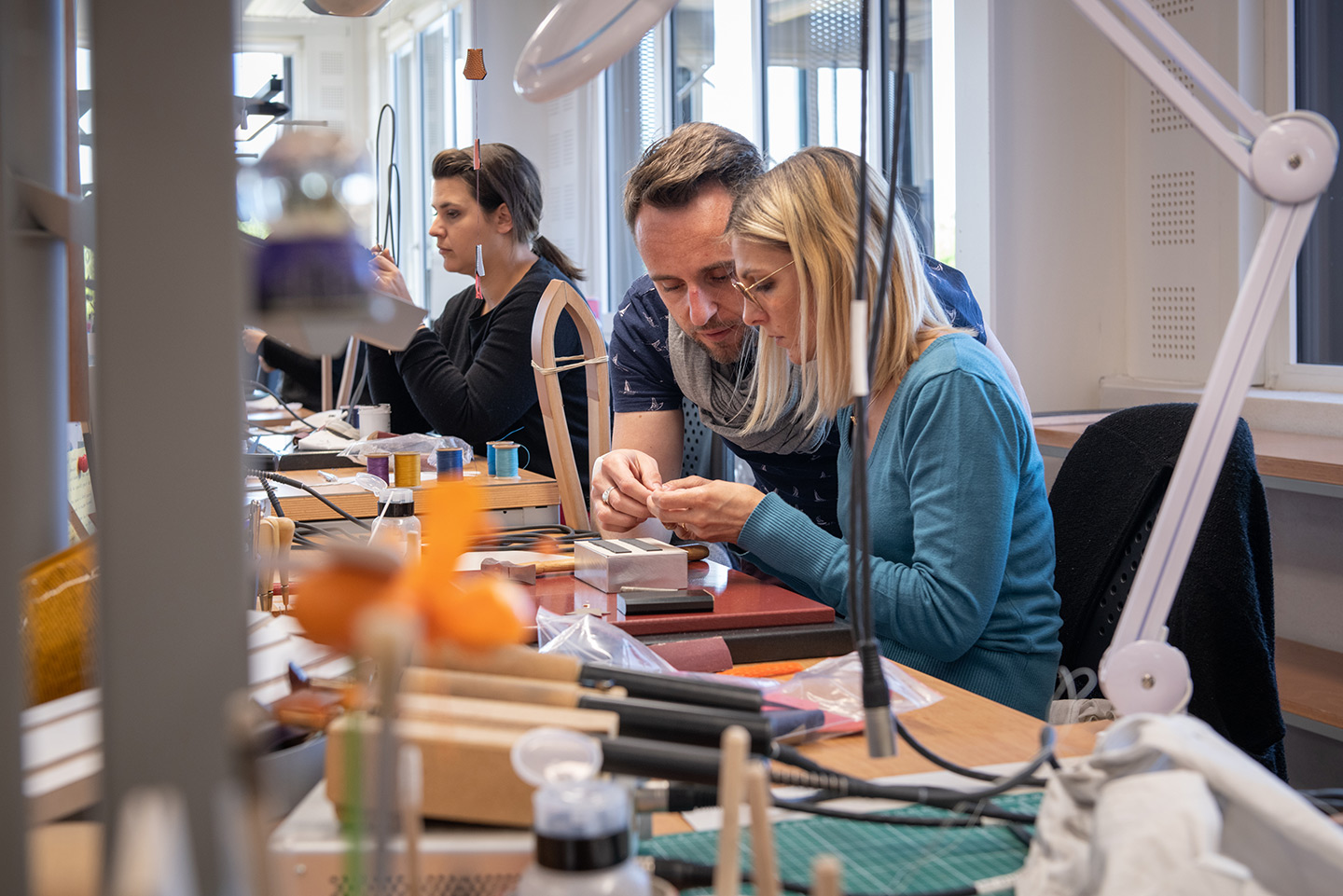 Hermès' remarkable solidity is the result of this strategy, which is based on high standards, the transmission of unique savoir-faire, local anchoring and strong vertical integration. It reinforces the choices made in the past and encourages the Group to show initiative and innovation to forge the successes of tomorrow.
This strategy is the result of the high standards of a House founded on craftsmanship and independence and driven by its exceptional savoir-faire to serve unbridled creativity. It hinges on historical savoir-faire while remaining resolutely forward-looking, through its accelerating transformations, its creativity and innovation, and its ability to understand and anticipate the aspirations of its customers today.
The crisis we have been through has seen the affirmation of commitments with social and environmental responsibility, the digitisation of uses and the positive market dynamics in Asia. Taking into account these profound and lasting changes allows us to remain confident in the future.
For Hermès, craftsmanship is a sustainable and human adventure, in a constantly changing world.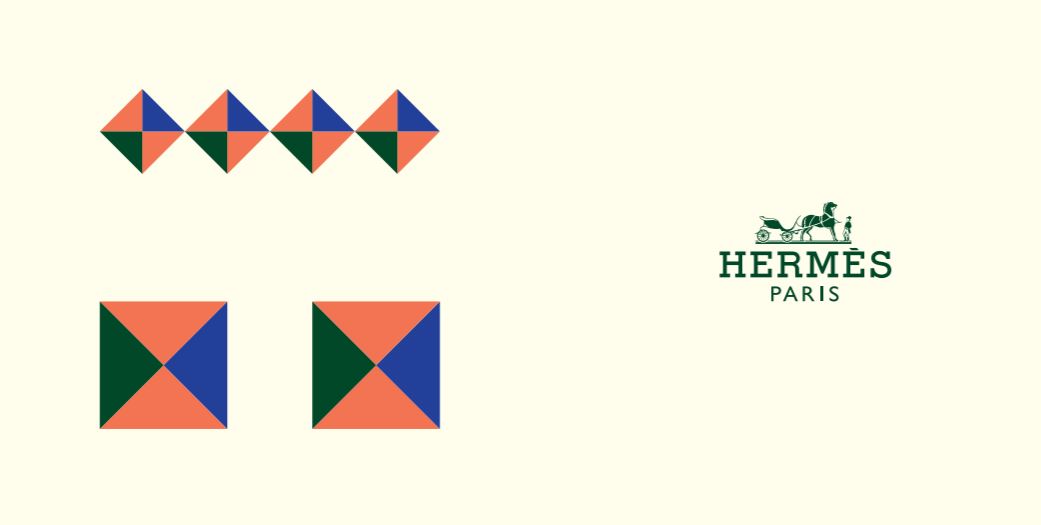 2020 Universal registration document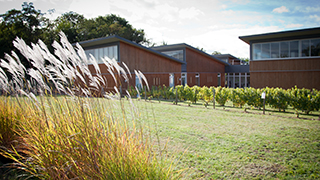 Hermès continues to invest in its production capacity in Auvergne, France