Ethics, Human Rights and Diversity
Hermès is a mosaic of men and women working daily for its development all over the world. Beyond their uniqueness, the people who bring the group to life have a common desire to share certain unifying and founding values of the spirit that has characterised Hermès since 1837.
Henri-Louis Bauer President of the Executive Management Board of Émile Hermès SARL
Axel Dumas - Executive Chairman
Ethics
Ambition
The Hermès' approach to ethics aligns with the universal framework set out by major international principles, standards and agreements. The group has a two-fold requirement: zero tolerance in terms of ethical violations on one hand, and a determined commitment to a culture of ethics on the other.
The approach is structured around specific guidelines applied at the highest level of the organisation, through tools that formalise our commitments and through a training, inspection and alert policy.
Governance
The Executive Committee oversees all ethical matters. It is supported by an Ethics Committee which was set up in 2018. Chaired by a member of the Executive Committee, it comprises the group's Legal Director, the Director of Human Resources and the Director of Legal Compliance.
The Committee oversees actions related to ethics with two main missions: advising and formulating recommendations based on the group's ethical stances, and the handling of internal alerts (receiving reports from employees and monitoring the handling of these alerts).
Commitments
Hermès values and commitments have been explicitly set out and enshrined since 2009 in the group's code of ethics, since 2012 in the code of business conduct, and since 2018 through an anti-corruption code of conduct. These codes are in line with the frameworks of fundamental principles such as the Universal Declaration of Human Rights, the ILO conventions, the OECD guidelines and the United Nations Global Compact on Sustainable Development.
Hermès values and commitments have been enshrined in:
Hermès requires its suppliers to adhere to an ethical, social and environmental policy, signing a charter drawn up specifically for each supplier, called the "Handbook 2".
Training, inspection and alert policy
The Group has introduced a training on ethics and integrity. This training is delivered locally or through seminars, such as the buyers' seminar. In addition, an e-learning module on ethics is currently being developed.
A network of compliance managers has been set up in all Métiers and subsidiaries to ensure the circulation of best practices and perform a second-level inspection, complementing the work of internal audit teams.
The "H-Alert" ethical alert system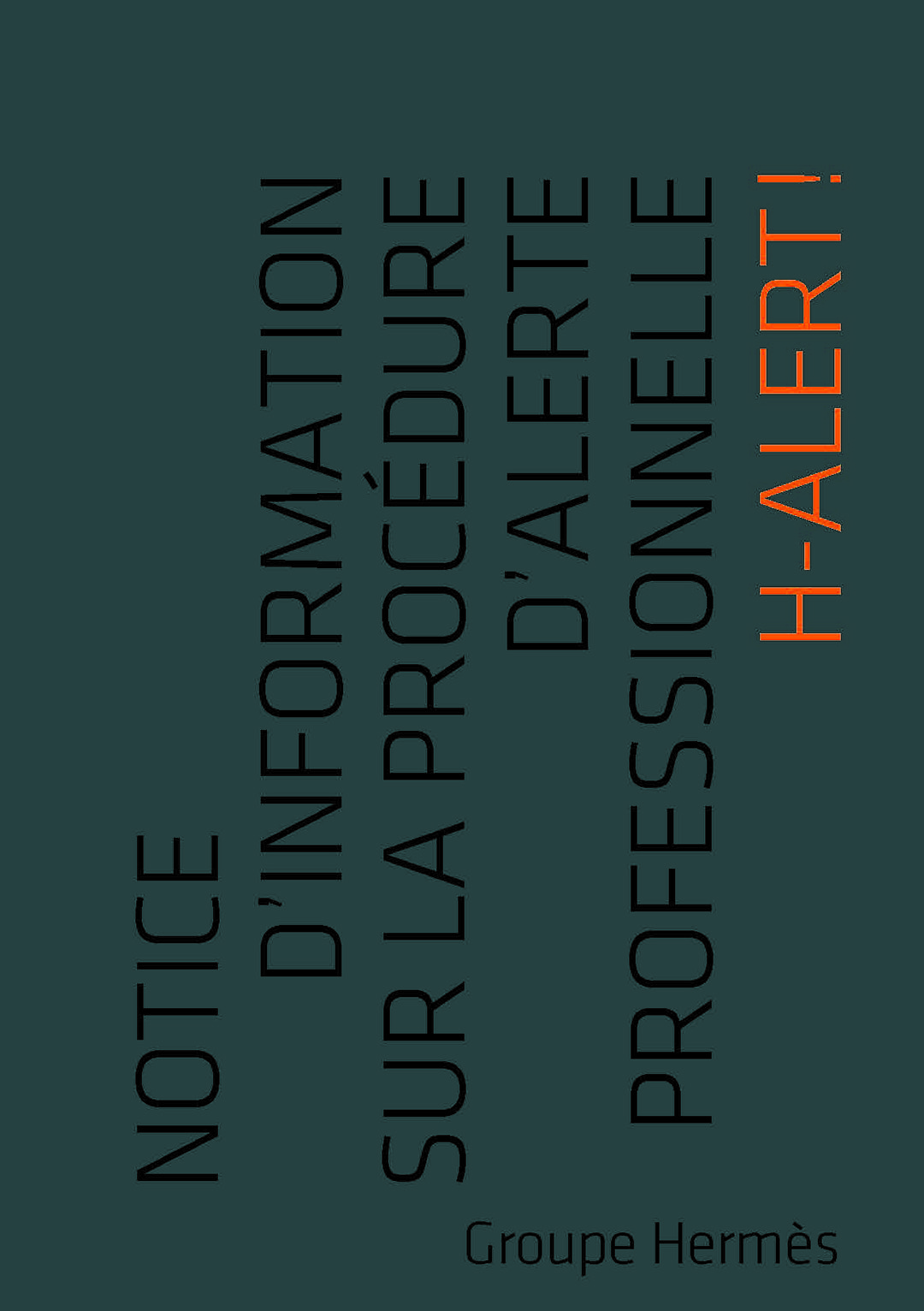 The "H-Alert" ethical alert system
A secure and confidential professional alert system, called "H Alert!", was introduced in 2019. It is used to centralise reports from employees regarding issues such as breaches of legal standards, Group's codes, procedures and ethical standards, and the existence of serious risks to or violations of human rights and fundamental freedoms, or to the health and safety of people or the environment resulting from the Group's activities. These reports may be made through two channels:
to direct or indirect line manager, to Human Resources or to the Ethics Committee;
via a secure and independent intranet platform, or via voice messaging, both operated by an external service provider.
"H Alert" is available 7 days a week, 24 hours a day.
It also offers employees the opportunity to file a report anonymously. Hermès has put in place effective measures to ensure the confidentiality of information and the processing of reports at all times.
Within the Group, 20 alerts were received and processed in 2019: eight alerts were received via "H-Alert!" system, nine via the "Let's Talk!" local alert system in the United States, and three via the local alert system of the Hermès Greater China entity. All alerts are followed up and certain cases are still being processed.
2018

Hermès first joined the Global Compact (Advanced Level)

76%

of suppliers' "Handbook 2" signed (Direct Purchasing)
100%

of French subsidiaries within the Group have incorporated the anti-corruption code of conduct and "H-Alert" information into their internal regulations

7,484

employees have received face-to-face ethics training
Human rights
Commitments
Hermès is committed to promoting respect for human rights and fundamental freedoms. The Hermès group's approach to ethics aligns with the universal framework set out by the major principles, standards and international agreements, and is committed in particular to respecting:
the Universal Declaration of Human Rights;
the European Union Charter of Fundamental Rights;
the Charter of Fundamental Rights of the International Labour Organization, which covers the principles grouped into the following themes: freedom of association, forced labour, child labour, discrimination;
the OECD guidelines.
In addition, the Hermès group is a signatory to different initiatives such as the Global Compact under the aegis of the UN.
Hermès is also required to communicate its commitments and actions relating to the protection of human rights in compliance with the Modern Slavery Act (in the United Kingdom) and the California Transparency in Supply Chains Act (in the United States).
Accessible on-line:
Governance
The Department for Legal Compliance contributes to the identification of risks to human rights and fundamental freedoms and to the development of measures aiming to prevent violations, particularly within supply chains.
To do this, it collaborates with the Group's main functional departments. In the context of respecting and protecting human rights and fundamental freedoms, the Hermès Group is working on:
defining reference frameworks for identifying these risks;
designing and implementing prevention and monitoring actions;
circulating the culture of compliance and ethics among all group employees.
The management system
The Vigilance Plan
In accordance with French Law 2017-399 of 27 March 2017 related to the duty of care of parent companies and contractors, Hermès has drawn up a vigilance plan to identify risks and prevent serious violations of human rights and fundamental freedoms resulting from its activities, as well as the activities of its subcontractors and suppliers.
Regular supplier audits
Hermès has implemented regular procedures to evaluate the status of suppliers and subcontractors. These audits allow the group to verify the in-situ reality of suppliers' commitments with regards to social responsibility, human rights and fundamental freedoms: child labour, forced labour, discrimination, gender equality, illegal work, employment contracts, wages, working hours, overtime, freedom of assembly, employee representation, etc.
66%

of purchasing categories have had their risks mapped

5,000

audit hours completed with our suppliers
Diversity - Inclusion
Ambition
Maintaining diversity among employees and talents is the foundation of the House's wealth and creativity. The Group is committed to the principles of recognition, respect and providing equal opportunities for all. The are 25 criteria in France against discrimination that the Group commits to and this list may vary depending on local regulations. 
Governance
The diversity policy is overseen by a member of the Executive Committee in charge of organisational governance. It is based on the values and ethics of the House and on the actions overseen by the Group's Human Resources Department. The Group's Disability agreement team joined forces with a network of 12 officers across all of the Group's Métiers.
Commitments
A diversity of talent is a source of wealth, creativity and innovation, and the "Hermès, a responsible employer" policy strives to facilitate the integration of all employees by developing practical actions in favour of:
ethics: the respect for differences is presented to the employees in the code of ethics, created in 2009 and updated in 2019, that serves as the guarantor of objectivity, equal opportunity and promotion of diversity without discrimination in recruitment, career development and everyday management;
diversity management: through the "Alterego" training programme, which highlights the richness of diversity for the company and thus reinforces fair management in access to employment and career management;
social diversity: to encourage diversity, Hermès' recruitment methods are aimed at greater inclusion and diversity, by encouraging the employment of long-term job seekers and senior workers, as well as, whenever possible, prioritizing skill and knowhow over CV experience.
gender equality: gender equality is one of the fundamental principles promoted by the Group. Special attention is paid to the awarding of similar pay for equal work and to ensuring equal opportunities at all levels of employment;
people with disabilities: Hermès has long been committed to integrating people with disabilities into its different Métiers. By signing a Group agreement in particular, the House sets itself the ambitious goal of increasing its use of the socially supported organisation by 20% every year between 2018 and 2020 in France.
Breakdown by Gender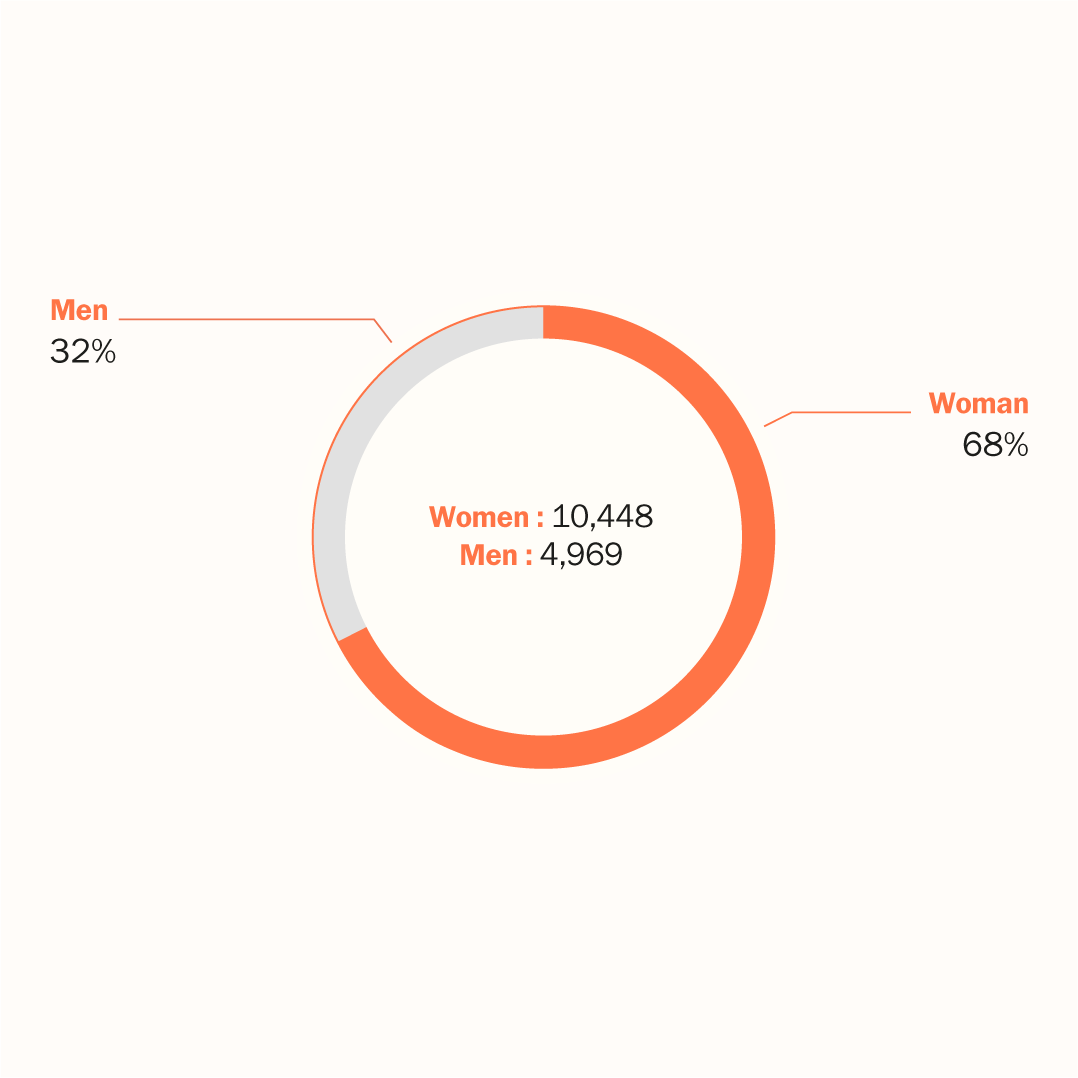 Breakdown by Gender
Employees' recruitment respects diversity principles wherever Hermès operates. Gender equality is one of the fundamental principles of the Group, which results in a female majority of 68%.
Gender equality
| | |
| --- | --- |
| Gender equality index | 94/100 |
| Proportion of female managers | 61 % |
| Proportion of women in senior management | 54.2 % |
Workers with disabilities
7.42 %

of total employment rate in France of people with disabilities

1.7

million euros of Group purchases made from socially supported organisations
Initiatives within the house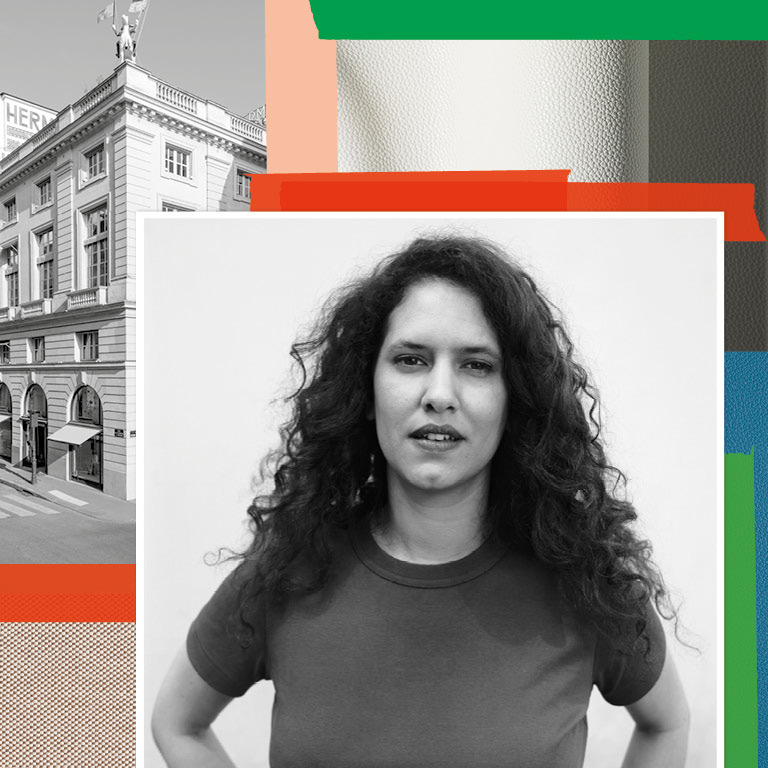 Initiatives within the house
In order to develop women's leadership, 19 Hermès managers in France and 26 managers in Europe and Asia, identified as employees with high potential, benefited from the EVE programme in 2019, 12 of whom were women compared to seven in 2018.
Furthermore, women identified as talents were able to benefit from internal mobility. Thus, among future leaders, 11 internal transfers were made, including seven women, and among confirmed talents, 23 internal transfers were made, including 13 women. These are potential employees called upon to take on high-level positions in the organisation over the long term and identified as such in the twice-yearly talent review.
Learn more about
Discover how ethics and diversity take part in our strategy "All artisans of our sustainable development". 
Download our documents: