Eco-Design
"A luxury product is one that can be repaired."
Robert Dumas, Executive Chairman of Hermès from 1951 to 1978
Ambition
Since 1837, Hermès has remained true to its values and today it remains a company of craftspeople. By selecting the finest raw materials, Hermès produces exceptional objects that are both functional and beautiful, durable and repairable, and designed to be passed on.
From the original idea to manufacture, from purchase to use by the consumer, the life cycle of a Hermès object reflects the unique nature of the Hermès brand and its straight-forward artisanal model. This model is characterised by reasoned development at every stage.
What is eco-design ?
Eco-design means designing products that respect the principles of sustainable development, by using "as few non-renewable resources as possible, preferring instead renewable resources, used with consideration for their rate of renewal and whose waste may be recovered, preferably through reuse, repair and recycling". This forward-looking and innovative approach makes it possible to minimise the environmental footprint of products over their entire life cycle, without compromising their qualities of use.
* ADEME définition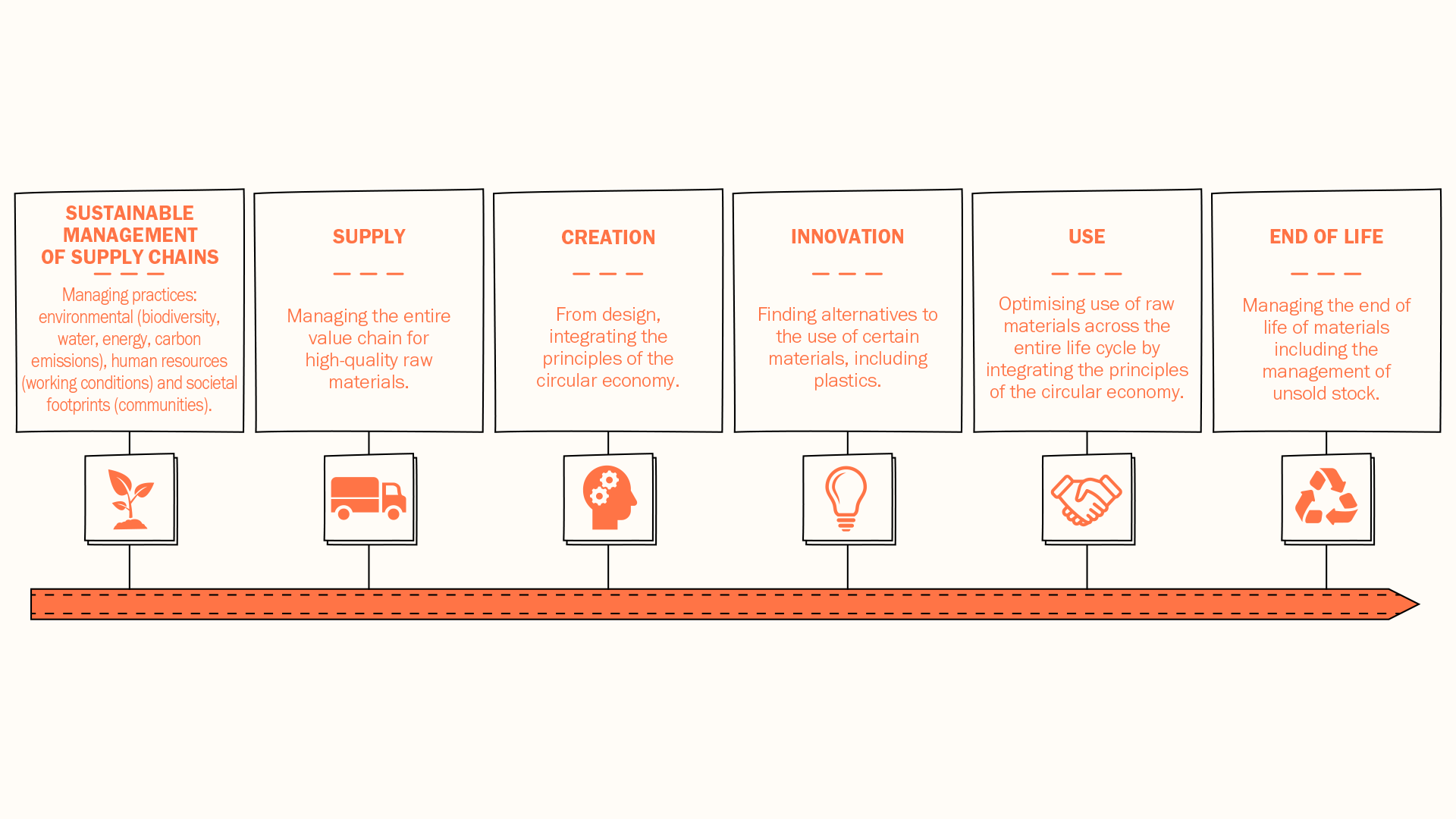 Organisation
In 2020, to complement the work carried out by Hermès métiers to analyse the life cycles of their products (LCA), optimise material use and manage their waste and production offcuts, a Circularity Committee was created. The committee enables the métiers to exchange good practices and technical solutions and, through pooling, to develop more rapidly new avenues for upcycling, with silk and cashmere. Its work and initial results feed into the work of the company's designers, thus helping to strengthen eco-design initiatives for Hermès products.
Objectives
The métiers carry out life cycle analyses on their products in order to identify specific areas for improvement and develop eco-design.
Eco-design is an integral part of the company's artisanal manufacturing model:
Materials come from natural and renewable sources and are taken with consideration for the resource's potential for regeneration. The company's historical preference for natural fibres avoids the use of non-renewable petroleum-based fibres. The analysis of supply chains and certifications ensures best practice.
Hermès teams have always worked on the design of aesthetic, high‑quality objects that have very long lives. The Life Cycle Analysis (LCA) method supports this responsible design approach through more standardised and quantified calculations, and provides a complementary scientific perspective. 100% of the most emblematic items to be covered by a life cycle analysis by 2025.
Minimising production waste is a primary concern for the métiers. Each métier works to continuously improve the use of these rare and precious materials.
The production process is controlled, with 100% of French sites supplied with green electricity and waste handled according to the strictest regulations.
Priority is given to the use of local transport and the use of maritime or rail transport rather than air transport whenever possible.
More environmentally friendly packaging, with the elimination of single-use plastics from packaging by 2025, FSC-certified paper and cardboard and the use of water-based ink and recyclable materials.
In the tradition of saddlers, Hermès objects are designed to last and be repaired, thanks to their technical design and manufacturing methods that emphasise robustness and long-term use.
The strategy of allowing shop managers freedom when purchasing for their stores, by being as close as possible to their customers, means there is a very low number of unsold products. Hermès has set itself the objective of not destroying any new products intended for sale, particularly for clothing, by 2022.
2022 Results
100%

of gold and silver used for jewellery are from recycled sources (no mining)

80%

of the métiers carried out at least one LCA on their emblematic products

202 000

products repaired in 2022
Breathing new life into noble natural materials
Breathing new life into noble natural materials
A multitude of initiatives exist with the objective of introducing industrial processes that aim to upcycle most of our production offcuts:
The group has launched a project to make jumpers which contain 20% recycled silk ;
Manufacturers are currently testing reels of recycled silk and cashmere yarns ;
Tests are currently being carried out on acoustic insulation panels made from silk and cashmere waste in the temporary premises of Holding Textile Hermès.
Discover out "Footprint Across the World" collection of films.
Rouge Hermès
Rouge Hermès
In March 2020, Hermès inaugurates the Beauty business after more than five years of research and development. Its first founding act, Rouge Hermès, is a collection of lip products designed to last. The choice of noble materials such as metal and the refillability of the lipsticks are evidence of a design that cultivates a sense of detail as well as an environmental commitment.
Petit h, an example of upcycling
Petit h is above all a unique creative approach: inventing objects, using materials that Hermès has not used in the production of the House's collections, thanks to the excellence of the savoir-faire and the creativity of the artists and designers. The métier works not from a preconceived idea, but from available materials. These reverse creations make it possible to develop a new typology of objects that are quirky, funny and useful. All of the Group's métiers are involved, and with creative freedom.
Discover how eco-design takes part in our strategy "All artisans of our sustainable development".
Download our document :